By Dr. Jay Zinn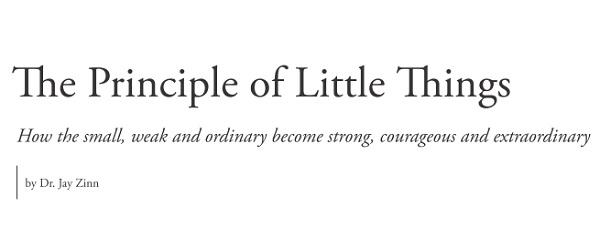 I was small in stature most of my youth. It's hard to be smaller and skinnier than your friends, not to mention the endless target of bullies. Although not very good at sports, I quickly became a fast runner to escape them.

I longed to participate in any sport, which had thrust others my age into the public spotlight. I also yearned to be friends of any of the elite or popular students, but most of them ignored me. I became used to being the last person picked to play on a team in neighborhood baseball, basketball, or football … what I considered essential to being a real boy.

Where I did excel, though, is in the arena of creative ideas, which I loved to implement. When I holed up in my room, I entered whole new worlds, reading about comic book heroes and Tarzan, the classic series by Edgar Rice Burroughs. Later, you could find me out in the woods and near the creek as I became a hero in my world of imagination, acting out my fantasies of heroism—by myself.

So growing up, there was nothing much to speak of that made little Jay Zinn stand out among the rest. Along with my struggles in sports and making friends, I failed even more at academics, in particular, public speaking. Perhaps this is why I've always loved the underdog stories of unlikely heroes beating the odds of improbability.

Having said all that, you can imagine my thoughts when I became a Christian. Of course, I did not think I was of much use to God. I was glad to be saved and felt his love for me, but when I looked at the older brothers and sisters in Christ and how strong they were in God, I could not imagine myself being used the way he seemed to be using them. But one day God showed me 1 Corinthians 1:26-29:

"Brothers, think of what you were when you were called. Not many of you were wise by human standards; not many were influential; not many were of noble birth. But God chose the foolish things of the world to shame the wise; God chose the weak things of the world to shame the strong. He chose the lowly things of this world and the despised things—and the things that are not—to nullify the things that are, so that no one may boast before him."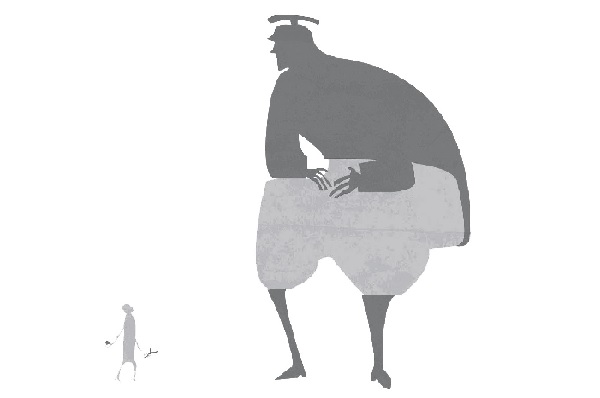 My heart stirred when I saw that verse. There was my hope, that God could use someone insignificant like me for his name's sake. I grew up small and weak in my own eyes and in the eyes of others. I felt there would never be a way out of that place I'd come to accept as my lot in life. But God can use anyone to make a difference. He can take the smallest and weakest person in the kingdom and give them great strength and courage to shift from being ordinary to extraordinary.

As I began to read the Bible, I saw over and over again this principle of little things and insignificant people used by God. God used the jawbone of an ass in the hands of Samson to slay a thousand Philistines. He took the infant Moses from the Nile River and made him a deliverer. He used the rod of Moses to part the Red Sea. He used the sling and stone of a shepherd boy, David, to slay the giant, Goliath. He used the widow's jar of oil to fill multiple jars to pay off her debt. He used the five loaves and two fishes of a boy's lunch to feed 5,000 people.

Nothing and no one is too small or too weak to be used by God. I know because he had called someone as ordinary as me. In this, I identify with the apostle Paul who said, "In my weakness, I am made strong through God's power" (2 Corinthi­ans 12:9-10—paraphrased).