By Eric Vogen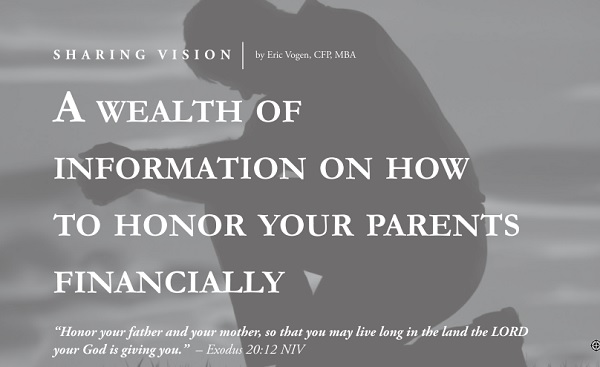 One of the 10 commandments from the book of Exodus seems like a good place to start on the topic of honor and wealth. By age 10, I somehow could understand that money was tight by the way my parents talked about and used money. This attitude toward money obviously affected me, as I remember my favorite merit badge for Boy Scouts involved counting every penny that I earned, spent, saved, and gave away. I meticulously tracked and recorded this information in a notebook. My older sisters remind me I took this somewhat to an extreme when I started charging them interest (albeit 10 cents) for the use of certain toys of mine, which were in great demand.

A few years later, I remember my dad having a hard time making IRA contributions, an essential strategy he told me he used to save for my mother's retirement. I agreed that this was important and decided they didn't need to give me money anymore. Instead, I expanded my paper routes. I hadn't really thought about this being significant, before writing this article, but it probably was a defining moment, primarily motivated by a desire to honor my parents. My father did pass away at a relatively young age, so it was a blessing that he was able to save for what has turned out to be a contented retirement for my mother.

There are many ways to honor and respect your parents, but from a financial standpoint, here are some ways that I recommend:

• If you are financially dependent upon your parents, or other people, or banks … visualize what it would look like to be financially independent and set a date of when you think this might be possible.

• Plan for emergencies with adequate savings and insurance (e.g. medical, disability and life insurance), so you don't need to burden your parents or other loved ones.

• During the next decade in the United States, we will be experiencing one of the largest generational wealth transfers in history, as the current senior generation passes on. If you think there is a potential inheritance, you can honor your parents in a couple of ways:

• Don't ask for the money, but do ask your parents how you may honor them with the inheritance. Their answer may surprise you. Document this. This may be the start of a family legacy statement or a family wealth philosophy.

• Help your parents find professional advice (e.g. estate planning attorney, Certified Financial Planner Practitioner, CPA). A two- or three-generation inheritance is very rare to accomplish. But with a multitude of advisors, it may be possible, and I believe that this would be a worthy pursuit.

• Make it a goal to leave the inheritance to your children in a better state of return than when you received it from your parents. Most people know of someone who seemed to have been hurt by an inheritance. But in my experience of hundreds of these type of situations, I think it's more about "money magnifying character" (as says Dan Rice, a leading philanthropy architect). An example of this is Tim Tebow, the quarterback for the Denver Broncos football team. Tim was trying to follow Jesus and live in good character well before he received wealth. When he received more wealth, he simply expanded some of his positive service to others in great need.

The second part of the above scripture is, "so that you may live long in the land the LORD your God is giving you." What a great blessing! And this makes me wonder how to honor the Lord for what He has provided to me. Isaiah 43:18-19 is a favorite scripture when talking about a new vision: "Forget the former things; do not dwell on the past. See, I am doing a new thing!" However, later in this section the Lord goes on to say that the wild animals honor Him for what he provides for them, but His people are not honoring Him. In Isaiah 43:22, the Lord goes on to give us a list of ways His people were NOT honoring Him. I thought the list in Isaiah might provide good points for us concerning what NOT TO DO:

1. Don't call upon the Lord.
2. Don't weary yourself for the Lord.
3. Don't make sacrifices for the Lord.
4. Don't bring offerings to the Lord.
5. Don't bring any special incense or fragrant calamus to the Lord.

But instead, Isaiah says, we burden Him with our sins and weary Him with our offenses!

My wife reminded me that I need to finish by saying the positive version of a God-honoring "To Do" list. So here goes:

1. Call upon the Lord. Ask Him to lead your life and your financial decisions.
2. Work for the Lord. Seek ways to integrate your faith into your finances, business, or retirement activities.
3. Make sacrifices for the Lord. Carve out time to share talents, be open to going after stretched goals, and take personal/business risks in faith.
4. Bring offerings to the Lord. Put some time in to create a strategic giving plan that you are really excited about and that deeply connects with your heart for those in dire need.

Finally, this is my favorite part of how to honor the Lord with your wealth. It says in Isaiah 43:24 that God wants us to lavish on Him the fat of our sacrifices. I was thinking this might mean, to us today, the first fruits of our creative energy. Something out there that may bring light where there is darkness, something that just might bring a smile or a chuckle to the Lord.
The author is a Certified Financial Planner practitioner and Managing Director of Vision Capital & Management, a registered investment advisory firm at 108 S. Main St., Suite E, in Davidson, NC 28036, (704) 894-9639. Securities are offered through FSC Securities Corp., member FINRA/SIPC. Advisory services are offered through Vision Capital & Management, an SEC-registered investment advisor, which is independent of FSC Securities Corp. The views expressed are not necessarily the opinion of FSC Securities Corp.