By Faith Walter
It was the summer of 1996, and I was feeling lazy. I had just finished my junior year at Wheaton College, and I was about to leave for Europe on a backpacking trip with other Wheaton students—but I really didn't want to go. All I wanted was to stay home with my family, work, read, and see friends all summer.

Yet earlier in the school year, when I had signed up to participate in Wheaton's Youth Hostel Ministry, my heart had been burdened by the young people backpacking through Europe, searching for adventure but also meaning and significance. Now, though, I just felt apathetic. It was a good thing the plane tickets had been booked, because I knew I couldn't back out. And it was good that I never did back out, because that summer was key to all that followed. Little did I know that one of my teammates would later become my husband, and that God would use our shared experience to plant the seeds of a call to return to Europe and begin our own hospitality ministry.
On the Road to Spain

Eleven years later, and with three kids in tow, my husband Nate and I moved to Spain. We weren't fluent in Spanish, and we didn't know the immense amount of work that we were about to jump into. We had heard, though, that "that which God originates he orchestrates," and we were excited to see how he would continue to lead.

We were moving because a few years prior Nate and I had met with an organization called International Teams (ITeams) to learn about their ministry opportunities. Nate had been working in the corporate world, and I had completed my Master's degree. In that meeting, we were open to exploring whatever openings they had in Europe, but when they heard about our experiences backpacking and working in youth hostels, they told us about the Camino de Santiago pilgrimage trail. Every year thousands of spiritual seekers walked across Spain and arrived in Santiago de Compostela on pilgrimage.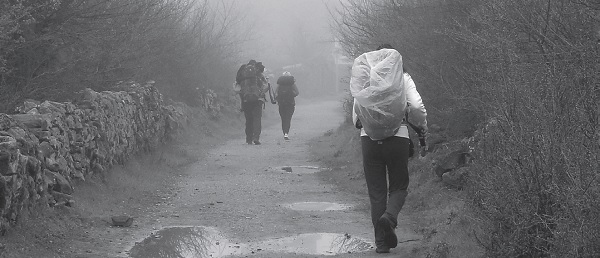 Pilgrims on the Camino would be more serious in their search for answers and purpose than the average college-age backpacker through Europe. Fifty percent of pilgrims were (and still are) between 35 and 65 years old, and many of them would be in transition between jobs, relationships, or studies. Coming from all different spiritual backgrounds, they would be searching for time and space to process and seek answers to profound questions.

The Camino and its pilgrims captured our hearts. We spent the next few years researching the Camino, developing a team, and partnering with a Spanish church to found a new non-profit called Terra Nova (which means "New Earth" in English). We also spent time walking the Camino.

One pilgrim I met stands out in my mind, a Swedish woman named Annette. As we walked together, Annette shared with me that her two-year-old son had died ten years ago, and since then she'd walked the Camino every year in memory of him. That year, she was still grieving for her son, but was also sorting through the trauma of her husband's decision to divorce after thirty years of marriage. They didn't have any other children, and what came through in her story was her sadness and loneliness. The Camino she was walking that year came in the midst of huge transition in her life.

Annette is not alone in her story. Some of the pilgrims carry very heavy emotional burdens, and their need for peace, healing, and purpose is very real. Psalm 34:18 says, "The LORD is close to the brokenhearted, and saves those who are crushed in spirit." Being out on the Camino with Annette and many other pilgrims confirmed our calling to care for them. We also learned that after walking for a hundred to eight hundred kilometers (or more) on the Camino, pilgrims longed to feel celebrated once they arrived in Santiago. We felt the need to create a place in Santiago de Compostela (the end of the Camino) to provide for both the practical and spiritual needs of pilgrims.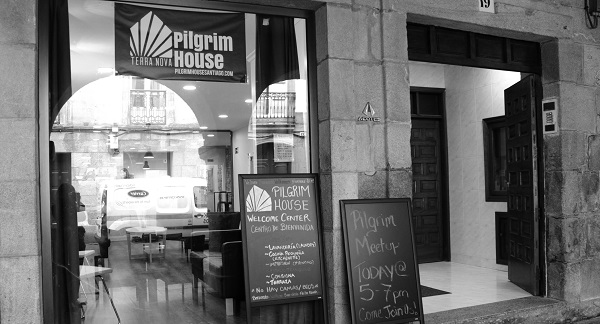 The Pilgrim House Welcome Center

In July 2014, our team opened the Pilgrim House Welcome Center and welcomed in our first pilgrims. Since the first day we opened, our team has tried to greet each pilgrim, ask for his or her name, and say, "Congratulations! You made it to Santiago! Good job!" Beyond this important initial welcome, we designed Pilgrim House to be a pilgrim's place of conversation, community, and prayer. There are a living room and kitchenette where pilgrims can gather and talk, and down the hall are a quiet reflection room and patio where pilgrims can journal, read a book or Bible from our library, or pray. Practical services include laundry, printing boarding passes, coffee and tea, and left luggage storage.

Pilgrim meet-ups take place every Monday and Thursday, and these are times for pilgrims to "meet up" and get to know each other and share stories about the Camino. Jordy, a Dutch pilgrim who walked from the Netherlands to Santiago, will always be close to our hearts. He was at one of our meet-ups when a pilgrim shared about Psalm 139. Jordy said, "What's Psalm 139? Is there a Bible here? I want to read what it says." We went to the Pilgrim House library and pulled out an English Bible and a Dutch Bible and brought them to him. Jordy had never read the Bible before, but with some help he found Psalm 139, then read it out loud in Dutch. Afterward, other pilgrims looked through the Bibles and read some of their favorite Psalms. It was a sacred moment.

Jordy spent the next three weeks in and around Santiago, and he shared that he was on a serious search for God. He had walked the Camino de Santiago, as he put it, to find out more about the Christian faith. Whenever he came into Pilgrim House, we got to hang out with him and have good conversations about family, faith, and traveling. We loved having him around! When it was finally time for him to go back to the Netherlands, we were grateful the Lord had allowed us to get to know him and count him as a friend.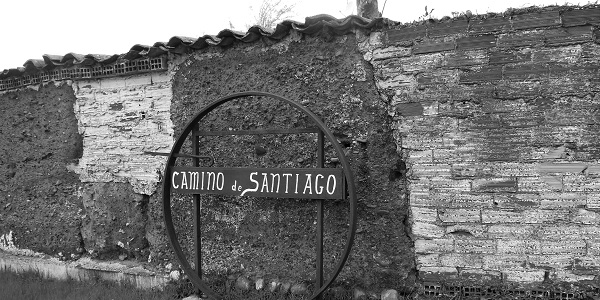 Hospitality and Healing

These days, the more we spend time with pilgrims, the more we see that the Lord is already working in their lives. Our job is to care for their needs, listen to their stories, and share our experiences of what we've seen and experienced of the Lord in hopes that they, too, can identify what he's showing them in their hearts.
Through our work with pilgrims, we have learned about and experienced the power of hospitality. Henri Nouwen talks about hospitality and healing in his excellent book Reaching Out:

"Therefore, healing means, first of all, the creation of an empty but friendly space where those who suffer can tell their story to someone who can listen with real attention. Listening is an art that must be developed, not a technique that can be applied…Healers are hosts who patiently and carefully listen to the story of the suffering strangers. (95-96) "

We hadn't really thought before about healing being tied with listening, and listening being so closely tied with hospitality, but we have seen that when pilgrims are given space and time to share deep and sometimes painful things, they seem to be more at peace afterward. Perhaps they've laid a burden down and they're tasting the rest that Jesus offers.

Henri Nouwen also talks about positive confrontation, not in the sense of argument or conflict, but in the sense of the host simply being himself or herself, and being a presence:

When we want to be really hospitable we not only have to receive strangers but also to confront them by an unambiguous presence, not hiding ourselves behind neutrality but showing our ideas, opinions, and life style clearly and distinctly. No real dialogue is possible between somebody and a nobody. We can enter into communication with the other only when our own life choices, attitudes and viewpoints offer the boundaries that challenge strangers to become aware of their own position and to explore it critically. (99)

This principle is applicable to everyone to whom we offer hospitality in our lives, not just pilgrims. We yield to the Holy Spirit's leadership, we are emotionally and physically present as we spend time with strangers, we share about our own views and experiences, and we let the Spirit illuminate the other person's position and, if necessary, bring healing in the other person's life.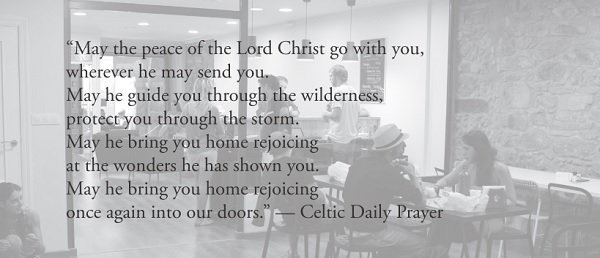 The Camino Goes On

In early December 2014, a group of five American college students came in after walking the Camino for four days. Early on, one of the girls had hurt her foot and could no longer walk with her backpack. So for the rest of the journey, the two guys took turns carrying her pack for her. I was impressed with the guys' attitude. Even though carrying their friend's pack was uncomfortable and slowed them down, it relieved her burden; because it helped her, they were happy to do it. It was touching to witness their sacrificial love and kindness.
Stories like these are what we hope to experience again and again in Pilgrim House as we celebrate with people and help them continue their inner, spiritual Camino. Looking back over the summer of 1996, I'm so glad I didn't give in to my laziness, but rather got everything packed and got myself on that plane. It's a dream come true now when we see twenty or thirty pilgrims at a time in Pilgrim House. Some are talking with each other, some are talking with us, some are reading in the back room, and some are making some coffee and journaling. In these moments we say, "This is exactly what Pilgrim House is here for." While the road to get here was long and winding, our faith in the Lord has deepened as we've watched what he can do and how faithfully he leads us!
---
Be a Pilgrim

If the Camino interests you, come be a pilgrim yourself! Live the life of a pilgrim for a week or more. You will find a sense of freedom as life gets stripped down to the basics and you create space to think and pray, process your own journey, listen to other pilgrims' stories, and share about your own life. Going on pilgrimage can at times be fun and restful, but you will also have to dig deep to finish a day's walk on the Camino. Pilgrims connect deeply with other pilgrims as they walk together and spend time in the hostels afterward, and opportunities to care for one another and share with each other abound.

We are also looking for volunteers to come serve in Pilgrim House for one week to three months at a time. We require that volunteers walk at least 100km of the Camino before they volunteer. Please contact us through our website, www.pilgrimhousesantiago.com, if you'd like more information.
---
THE CAMINO DE SANTIAGO

The Camino de Santiago refers to the pilgrimage to the tomb of the apostle James, the son of Zebedee and brother of John. According to legend, James is buried in the cathedral at Santiago de Compostela. Pilgrims have been walking to Santiago since the 800's, and historians say that millions of them have walked the path from then until now. It is one of the three most important pilgrimages of the Catholic church, along with the pilgrimages to Rome and Jerusalem. The Camino is not just one route; rather, there are many routes that begin across Europe. Pilgrims can walk or bike for weeks or months to arrive in Santiago.

The popularity of the Camino de Santiago has grown in recent years. In 2003, 74,614 pilgrims arrived in Santiago. Twelve years later, in 2015, 262,458 pilgrims arrived. They represented 175 different nationalities, with 706 from China and 175 from Taiwan. The most popular route is called the Camino Francés; it begins in the city of St. Jean Pied-de-Port, France, and covers 800km (500 miles). Many pilgrims walk for a month to complete this route.

In medieval times, mostly devout Catholics embarked on the Camino. They would leave from their homes, wherever they were, and make the trek to Santiago. Today, people of all faiths and cultures walk it for a multitude of reasons. Some need to get away from their hectic, modern life and process deeper questions. Others love the outdoors and welcome the physical challenge of hiking through Spain. Still others want to explore the history and culture of Spain. Many pilgrims are going through major life transition, and even loss, and need space to process the previous chapter of their life before moving on to the next. When they reach Santiago and go to the Pilgrim's Office to receive their certificate of completion, 95% include "religious" motivation as at least part of the reason for their pilgrimage. Walking the Camino remains a deeply spiritual experience for many pilgrims.