By Matt Reffie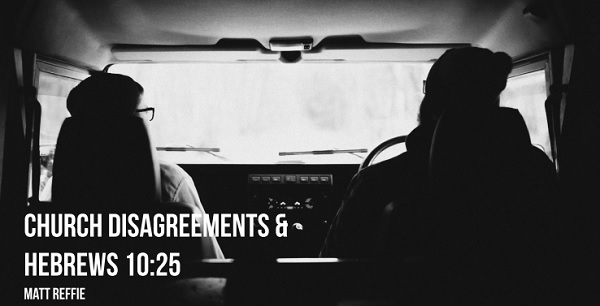 Every now and again, as you're reading your Bible, sitting in a church service, or participating in a Bible study, there is a verse that just strikes you… let's say, oddly. As you're listening to it, you're saying 'yeah, amen' in your head, but also slowly realizing the heart of the verse doesn't always quite jive with either your personal faith practices or the practices of your faith community. Some verses just force us to ask ourselves, "Wait, if that's true, then why do we ________ (fill in the blank)?"
One of those verses for me is Hebrews 10:25, where the reader is encouraged to 'not give up meeting together' or to not 'forsake assembling together.' While teaching and preaching this passage, we most typically apply it as encouragement to keep coming to church on Sundays. Don't give in to the temptation to sleep in or stay home to read the paper. Don't just stop coming altogether or try to be a 'lone-ranger' Christian out in the big world without any fellowship or accountability. These applications can be good reminders, but I don't think they really get at the heart of what the passage is telling us. Here it is in full:
Let us hold fast the confession of our hope without wavering, for He who promised is faithful; and let us consider how to stimulate one another to love and good deeds, not forsaking our own assembling together, as is the habit of some, but encouraging one another; and all the more as you see the day drawing near.1
The trouble with our typical teaching of this passage is it somewhat mischaracterizes the end-goal being proposed. In many churches, we tend to have a smaller concept of what we mean by 'gathering' or 'assembling' together. We characterize it as applying only to our particular local church congregation (or sometimes denomination), but in doing so, we miss out on the wider implications. The heart of this passage is that we should not forsake getting together with and encouraging one another (believers in Christ). The truth is, there are typically hundreds of believers in Christ in the average local community (even thousands in many!) and we do the passage a disservice if we neglect the believers outside our immediate faith-circle. We tend to take the easiest application of it, getting together with those brothers and sisters we agree with the most, and have made it the end-goal. The fuller end-goal of Hebrews 10:25 is for believers in Jesus Christ to get together and encourage one another more and more, in spite of our differences and disagreements.
Let me share a painful example from my own ministry in trying to draw Christians from different theological backgrounds together. I was ministering to college students in a small rural town as a campus minister. I had hoped to draw four or five active evangelical churches together to better reach out to and serve the student population. In doing so, I had gotten to know two local pastors who were already involved with college ministry the most, and hoped to bring their ministries into active support of one another. They both had an obvious passion for seeing students come to Christ, grow in Christ, and become active members of the local church, so I was excited to encourage the two to meet. Unfortunately, it didn't go so well. One pastor felt too pressured into agreeing to particular wording on a theological issue and the other felt put off by not being able to resolve the issue definitively. As far as I know, the two have ever since 'forsaken gathering together' and outreach to the college students has ever since suffered. This is a painful example for me, because I know and love both pastors. I know their hearts for ministry, and to see the potential of their fellowship squandered over a poorly handled disagreement is truly a shame. Obviously, we're not going to become ministry partners with every other believer in our local community, but I still feel we can give these connections a better chance than we often do.
The 'don't forsake gathering together' in Hebrews 10:25 is a call that goes well beyond showing up at your local church on Sundays. It is a call to gather together and encourage one another despite our differences. Just like the call to 'love your enemy' challenges us to go beyond in loving those who are easy to love, the call to 'not forsake gathering together' should challenge us to go beyond just gathering with those who are easy to get along with. Loving our enemies is hard, and it should be no surprise that gathering with those we disagree with can often be hard as well, but that is what we're called to. To make it easier, I think it is important we keep the fuller application of this passage in mind, particularly that part about encouraging one another.
Whether we have disagreements within our own local church or with other believers in the wider community, we would do well to focus on encouraging one another, rather than harping on our differences. The call in Hebrews is to gather together and encourage, not gather and agree on everything. Believers are going to have differences of opinion (and belief) from time to time, but these should not lead us to completely forsake one another. There are always areas where we can agree and encourage one another, and this is what we should focus on doing when we gather together. 'How is your week going?' is always a better question than 'What specific view do you take on this very difficult to interpret theological issue?' If theological uniformity was the intended goal of our gatherings, Hebrews 10:25 would read a bit differently. Instead, it reads: get together, encourage one another. Perhaps, being the Church, doing this Christian life together can be summed up that simply.
This is not to say we cannot or should not have theological discussions. One of my most joyful examples of disagreeing well comes from my time serving as both a campus minister at the local university and a deacon in my local church. There was one deacon who consistently challenged my opinions and perspectives concerning theological issues and the direction of our church. There were many times when we both walked away from a conversation saying, 'I think you're wrong on this one,' but we gave each other the respect and space to make it an ever continuing conversation. To this day we can happily and vigorously disagree on a great variety of important issues, because in the end we share in Christ, and trust Christ is actively working in the other's life. It is also important that encouraging one another is always the motivation behind arguing a point, not just being right. When believers genuinely care for one another, they try to convince, rebuke, and correct each other, but they always do it with the goal of growing closer together in Christ. They also do it with a willingness to be convinced, rebuked, and corrected themselves. Both parties have to be willing to be shown wrong. If the end-goal is to be right or theologically correct, then walking away from fellowship is always an easy option. However, if the end-goal is fellowship in Christ, then we can leave each other the space to grow through our differences. Remember, 'iron sharpening iron' is a coarse, grinding process, but when we do it well and stick to it we all come out for the better.
So, what might embracing a fuller view of Hebrews 10:25 look like in your life? Simply look around. There are believers of all walks and opinions in your local church, at your workplace, and in your neighborhood. Don't ignore them. While you can't 'gather together' with every believer around you, be open to any connections God might bring you throughout your week. Don't play the 'is this person Christian enough' game; just encourage the attributes of Christ you see in them. Visit with some believers from another congregation in your area. Again, don't worry about your denomination's position on this and their denomination's position on that, just encourage them and be receptive to their encouragement also. When it comes to your own congregation, realize that 'gathering together' will sometimes be a grinding process, but one that can produce strong lasting friendships when approached in a true spirit of openness and humility. When you hit an issue you just can't seem to agree on, look to Hebrews 10:25: don't forsake, encourage.
References
1 Hebrews 10:23-25, NASB